Southern Crab Apple
(Malus angustifolia [Aiton] Michx.)
Description
Malus angustifolia, also known as southern crabapple, narrow leaf crabapple, or wildcrapple ³ is a member of the rose family (Rosaceae) and is a eudicot. Southern crabapple is a small tree that typically grows to be between 20 and 35 feet tall ².  Its trunk reaches 8 to 10 inches in diameter ¹.  Its 1 to 3 inch leaves are oblong with a blunt tip and has wavy margins with saw teeth ¹.  It has chestnut  brown winter buds that distinguish it from wild crab (M. coronaria).   Leafy thorns can be found on its stems 8.  The tree produces beautiful pink or white flowers in the spring between the months of April and May 1,3.  The crab apples are the size of ping pong balls and  mature between August and September ³.
Leaves and flowers of Southern crab apple.  @ K. Schultz.  NC State Extension ³.
Fruit of southern crabapple.  J. Chambers, LSU AgCenter 8.
Distribution
Southern crabapple is commonly found from Virginia to Florida and west to  Louisiana and Arkansas ¹.   It is found on moist, well drained soils at the bottom of slopes, valleys and especially along fence rows¹.  In Maryland  it is in the Piedmont region in central Maryland, Garrett County and on the Eastern Shore.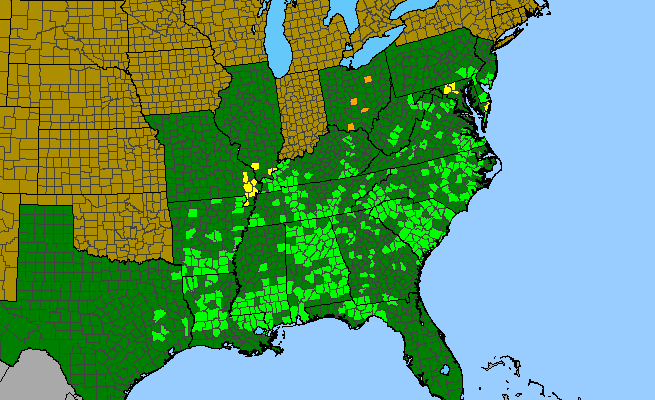 Range map of Southern Crabapple.   Guide to Georgia Flora 9.
Wildlife Importance
Malus angustifolia provides a food source for small mammals such as squirrels, opossums, rabbits and deer as well as many species of birds such as bobwhites, grouse and pheasants 3,4.  They also attract local species of  bees, which pollinate the trees 4.   
Threats
 In Maryland it is listed as S3, which means that it is not under direct threat, but is relatively rare in Maryland so it is monitored closely 5. Generally, they do not do well with flooding and are endangered in Florida and Kentucky 5.    It is susceptible to fireblight, cedar apple rust, apple scab, canker,  as well as to scale, borers and aphids ¹.
Economic Importance
 Natural food sources for bees are indispensable to conserving bees in Maryland, which help the economy.  The sour fruit can be made into james and jellies ³.  The hard wood is used for making tool handles 4.
Interesting Facts
 The crabapple seeds of

Malus angustifolia

contain small amounts of hydrogen cyanide, which is deadly in large quantities 6.
References
Contributed by E. Geary