Chinkapin Oak
Quercus muehlenbergii Engem.
Description
Chinkapin (or chinquapin) oak is a member of the beech family (Fagaceae) and may also be called yellow oak, rock oak or chestnut oak ³.  Chinkapin oak typically grows about 40 to 60 feet, but sometimes it can grow up to 80 feet tall and it has an open globular crown ¹.   The tree has a diameter of 1 to 2 feet² and is considered a medium sized tree. Its bark is light gray and, flaky with  shallow furrows.   Chinkapin oak has simple leaves, they are shiny green on the upper surface and whitish on the lower surface 4.   They resemble American chestnut leaves from which its common name is derived ³. The size ranges from 4 to 7 inches long with 8 to 13 large, pointed to rounded teeth on a side ².     Chinkapin oaks are monoecious, with both male (staminate) and female (pistillate) flowers on the same tree. Male flowers are drooping greenish yellow, and the female flowers are reddish green spikes. Flowers are pollinated during middle to late spring through wind 4.  The acorns can be 0.5 to 1 inch with the cap covering one-half the nut ¹.  At maturity they can be dark browner nearly black 6.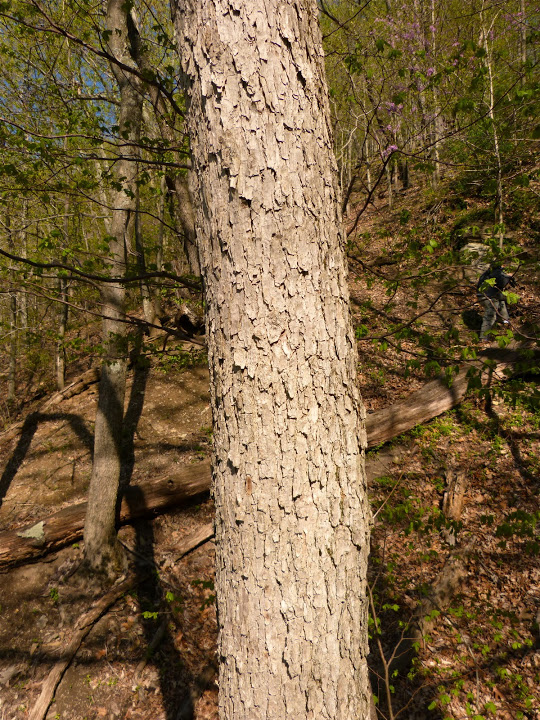 Trunk and bark of chinkapin oak.  @ J. Brighton, 2013.  Maryland Biodiversity Project 5.
Leaves of chinkapin oak.  @ J. Stasz, 2013.  Maryland Plant Atlas 5.
Acorn of chinkapin oak.  S. Wasowski, 1976,  Lady Bird Johnson Wildflower Center ³
Distribution 
 Chinkapin oak grow in central and eastern North America, but is nowhere dominant ². This is due to dry and rocky terrain where chinkapin oak thrives ². It requires high light for successful growth.  It is often associated with calcarious soils with a pH above 7.2 2,7.  However, it tolerates a wide range of soil it can grow in, such as acidic, clay, loamy, moist, well-drained, and sandy soils 6,8.  In Maryland, this tree can grow anywhere, but the tree is most abundant in southern/western Maryland along the Potomac River drainage 5.
Native distribution of chinkapin oak.  USDA 6.
Wildlife importance 
 Chinkapin oak's acorns are important for many animals' diet. The animals that eat the acorns are squirrel, chipmunk, turkey, crows, deer, bears and other small mammals and birds7. The acorns are particularly important to red-headed and red-bellied woodpeckers as well as blue jays 6.  The trees produce abundant of acorn that feeds the animals and any acorns that is not consumed turns has a chance of growing into a plant.  
Economic importance 
 Chinkapin oak's wood was used for split rail fences, railroad tiles, and construction lumber such as furniture, flooring and etc., due to its durability. Also,  this wood was used to fuel steamships 9,10.
Threats 
 There are many threats to chinkapin oak, they can range from insects to diseases. Some of these can be Oak Wilt, Anthracnose, and two-line Chestnut borer 11.  The diseases that affect the tree are mainly fungi.  Various root rotting diseases are also a huge impact on these trees, such as Ganoderma root rot, Inonotus root rot, Laetiporus root rot, an etc.12.  Sometime, these root rots damage the wood severely, leading to the tree's death.Also, excessive insects can also harm the tree especially beetles, oaks skeletonizers, oak lace bugs and caterpillars. This is due to the insects excessive grazing on the leaves of the tree. Other than insects and diseases, competition can also harm these trees, especially for sunlight. 
Interesting facts 
 

Early pioneers used chinkapin oak fences so much that they went out for miles, however once farming was down the fences were sold to engineers on the riverbank for fuel for the steamships 9.

 

 

Chinkapin oak grows in various soil condition such as mildly acidic soil and alkaline soil, dry, and moist4.
The Cherokee Indians used dry leaves for medicinal purposes, they treated headaches, fevers, cold sweats, and blisters and the roots were used for stomachaches by Koasati Indians13.

 

Chinkapin oak was nominated by Thompson S. Holland and Eric Wiseman for the champion tree of Virginia in 2019, it was also said that it is one of the largest trees in the United States 14.
References 
Contributed by S. Potukuchi