Loblolly Pine
(Pinus tadea L.)
Description
Loblolly pine belongs to the Pinaceae, or pine, family 12.This pine can grow to average heights of 90-100 feet with the tallest standing 169 feet tall ³.  Diameters can reach 63 inches 5.  It reaches maturity at 150 years 10.  The needles of the loblolly pine can be approximately nine inches long and  grow in clusters of three. The needles are  dark green or blue-green and persist for three or four years.  The deeply grooved, blocky bark of the loblolly pine is typically dark brown and thick. Loblolly pine cones have a red-brown tint at maturity, first appearing as yellow, and can grow to 6 inches and come in pairs or threes 5. The cone scales have stout prickles that are straight or bent outward. The term "loblolly" describes a low-lying wet area, which is a depiction of some loblolly pine habitats 7.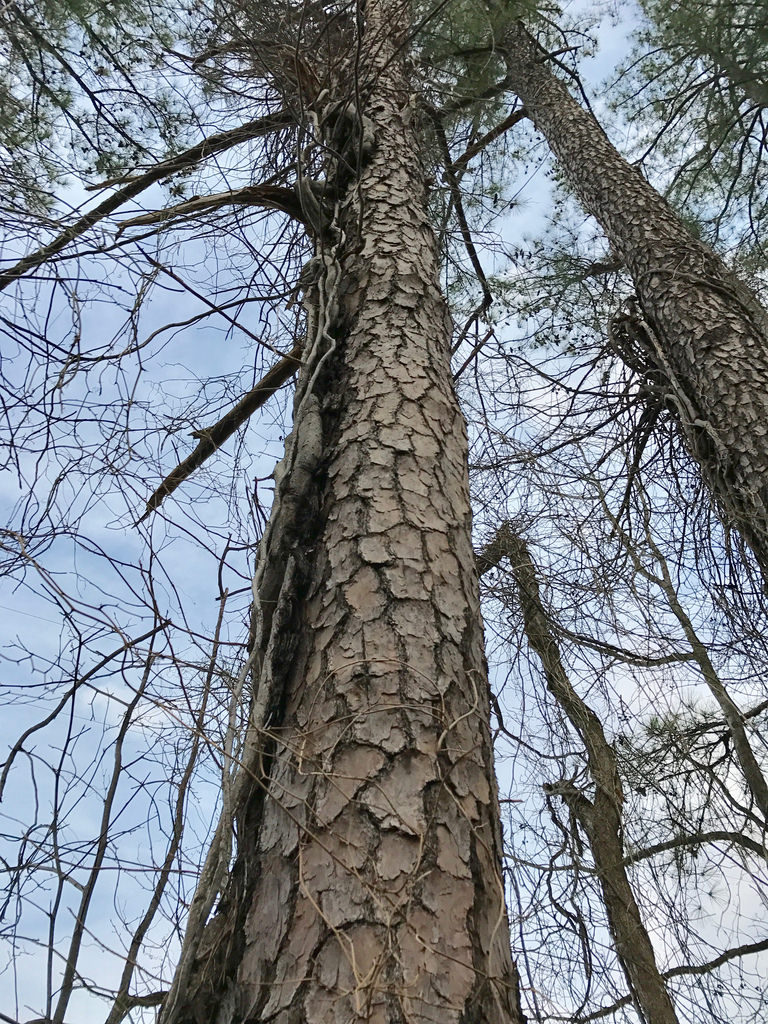 Loblolly pine trunk showing typical blocky bark.  @ J. Brighton, 2017.  Maryland Biodiversity Project 6.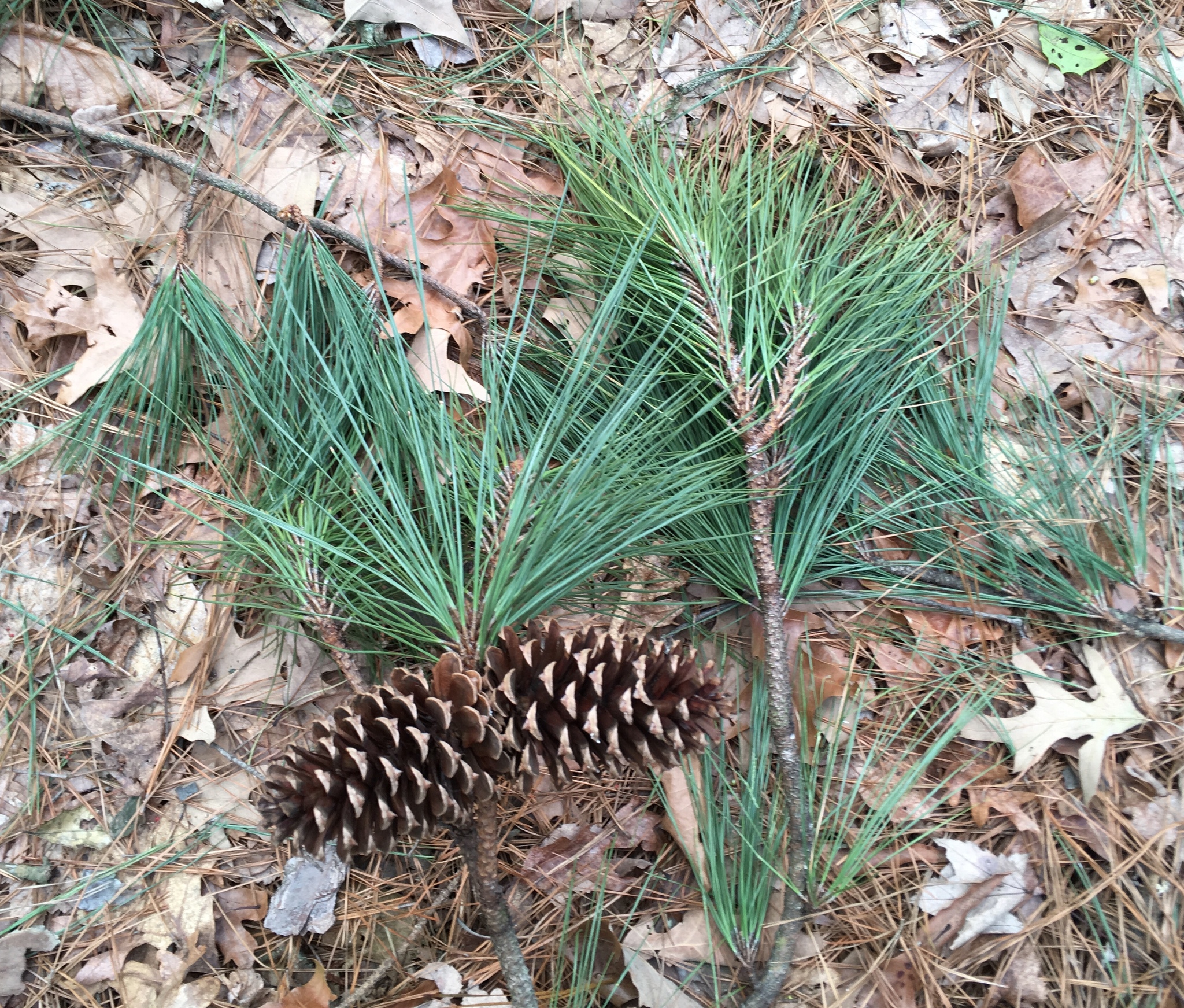 Loblolly pine branch and female cones.  @ A. Bradford, 2018.  Maryland Biodiversity Project 6.
Distribution
Loblolly pine is the most common pine in the southern United States and its range stretches from Texas and Florida to as far north as parts of New Jersey 8,12 and is common on the Eastern Shore of Maryland and on the Western Shore from Anne Arundel County south 6. This pine has taken over southern pine forests quickly and the number are continuing to grow at a fast rate. This is in part because of the loblolly's ability to grow in various soil types, include sandy soil, high moisture areas, and areas suffering from drought. The pine's tolerance of many differing temperatures is shown in its wide range of geographical location 9.
Native range of loblolly pine.  USDA 8.
Wildlife Importance
Loblolly pine is not only a home for numerous species of bird, deer, and rodent, but its seeds are also a major food source.  More than 20 bird species eat the seeds, and the seeds make up one-half of the diet of the red crossbill 12. The brown-headed nuthatch eats the seeds in winter and consumes insects from loblolly pine in warmer months.  It also uses the wings of the seeds for its nest 6. The loblolly pine also serves as a shelter for a few known endangered species, including the red-cockaded woodpecker 8,9, one of the few woodpeckers to bore holes into living trees 8, and the fox squirrel 8 that was recently removed from the endangered list.  Many species of moth feed on its needles 6.
Economic Importance
In various parts of the U.S., loblolly pine, sometimes commercially called the Southern yellow pine, is planted for use by the lumber industry.   It is the leading timber tree in the Southeastern US 12. Over 0.75 million acres are harvested each year, and most trees are under 50 years of age 12. There are over 20 million acres of loblolly pines to be harvested for lumber, carpentry, plywood, paper, and construction. Some may also be utilized in landscaping for yards or soil restoration 6.  
Threats 
The loblolly pine is noted as being one of the more adaptable and remarkably hardy tree species. The loblolly pine's ability to grow in a variety of locations amidst varying weather conditions and climates is not enough to protect it from species of beetle, fungus, and other natural phenomena. The southern pine beetle, found across the southern United States, can have devastating effects on the inner and outer bark of a pine tree and can often infect a tree with a deadly fungus.  A pine tree that is fully infested by southern pine beetles has zero chance of survival, as the beetles attack and eat away at a tree's phloem and eventually strip the tree of its bark and kill it 11. Deadly fungus will infiltrate the xylem, ultimately stopping a tree's ability to transport water ¹.  Because loblolly pine grows in a variety of conditions, trees located in the northern areas of the United States are subject to freezing temperatures. Woodpeckers can also damage the loblolly pine and cause rotting of the inner bark due to hollowing of the center of the tree ².   Mature loblolly pines can withstand moderate ground fires due to the thickness of the bark, but saplings with less than four inches diameters are killed 12.
Interesting Facts
Loblolly pine has taken on many additional names based on location, scent, and behavior, including North Carolina pine, Arkansas pine, rosemary pine and oldfield pine3,7,13..

 

Loblolly pine is one of the fastest growing pine trees 13 and can live to over 200 years 

4

, with the oldest known tree being 241 years old in South Carolina 5.

 

Loblolly pine seeds were taken to space aboard Apollo 14 and later planted at the White House ³

.

Loblolly pine is an important tree for Bald Eagles ².
The Maryland state champion loblolly pine is in St. Michaels, Talbot County and is 85 feet tall and 56 inches in diameter when measured in 2015 4.
References
Contributed by O.  Del Pizzo