Blackgum
Nyssa sylvatica Marshall
Description
Blackgum, also known as black tupelo or sour gum, is in the dogwood family (Cornaceae)¹.  In favorable sites, black gum can reach heights of 120 feet and diameters of 48 inches¹, but more typically is 80 feet tall³.   Leaves are 3 to 6 inches long, glossy above, typically with a smooth edge, but may be saw-toothed³.  Black gum trees may have only male flowers or only female flowers while most trees have a few bisexual flowers, a phenomenon called polygamodioecious3,4.  The flowers are small and white or green³.  The fruit is less than one-half inch and is blue-black with a single pit³.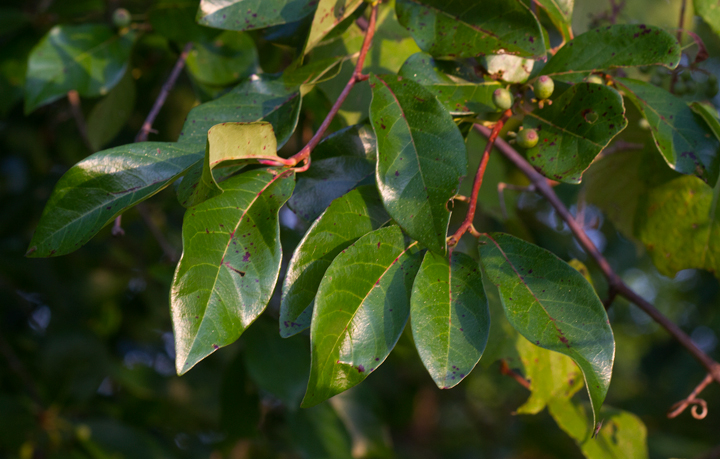 Fruits and leaves of blackgum.  @ B. Hubick, 2012.  Maryland Plant Atlas5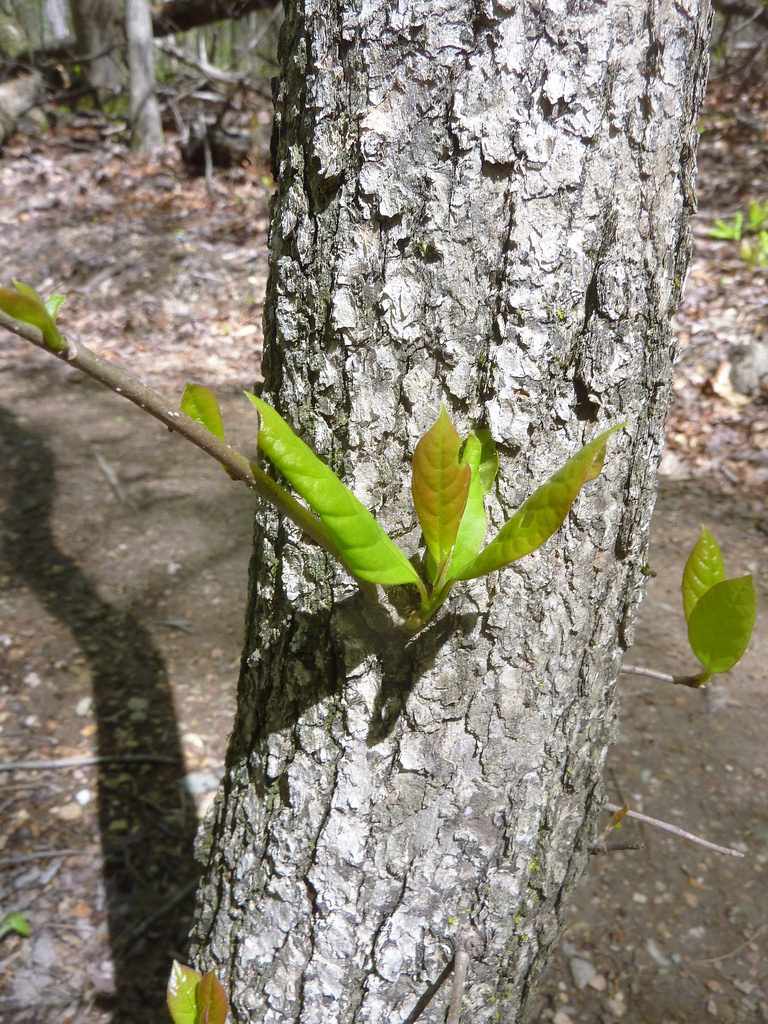 Bark of blackgum.  @ B. Hill, 2017.  Maryland Plant Atlas5
Distribution
Blackgum is found from southern Maine southwest to southern Missouri, south to eastern Texas, along the Gulf Coast to central Florida and north along the coastal plain.  It can be found on lowland and upland soils from wet to dry conditions¹.  It is found throughout Maryland5.  Blackgum is closely related to swamp tupelo (Nyssa sylvatica var. biflora) and may be difficult to distinguish where the ranges overlap on the coastal plain¹.  Classified as shade tolerant, black gum grows best in full sun¹. 
Native distribution of blackgum.  USDA¹
Wildlife Importance
Blackgum is an important species for wildlife.  Numerous songbirds and animals consume its fruit and deer eat the young sprouts1,3.  It provides nest cavities for many species such as woodpeckers¹, bats, reptiles and tree frogs³.
Economic Importance
The tree provides stunning colors of yellow, orange, red and purple in the fall, making it a favorite for landscaping².  Blackgum flowers of blackgum are important in providing honey¹.  It produces a honey with a light, mild tase that is a multimillion dollar industry in Florida². 
Threats
When grown on dry sites, black gum is susceptible to fire¹.  There are few insect or disease problems4.
Interesting Facts
The genus name, Nyssa, comes from the Greek water nymph, Nysseides; and the species epithet refers to growing in the woods4.
The fruit is edible, but sour, hence one of the common names—sour gum4.
The Maryland state champion is in Montgomery County and measured 93 feet in height and 66.9 inches in diameter in 20196.
Blackgum trees may live longer than 290 years of age7.
References
Contributed by J. Hull