Pitch Pine
Pinus rigida Mill.
Description
Pitch pine is a cone-bearing gymnosperm belonging to the pine family (Pinacea).   Other common names include black pine, hard pine, torch pine and yellow pine 7.  The growth form of pitch pine is highly variable with growth from  prostrate to 85 feet tall  and up to 36 inches in diameter². Their branches are long and spread wide, sometimes drooping. The thick bark is reddish-brown and turns black.  Trunks often have clusters of epicormic needles.  The yellow-green needles are in clusters of three, are up to 6 inches in length and may be slightly twisted ².  Needles persist for 2 to 3 years ².  Mature female cones are 1.3 to 3.5 inches long with sharp spines curving downward ².  Two winged seeds are borne on the upper side of the cone scales.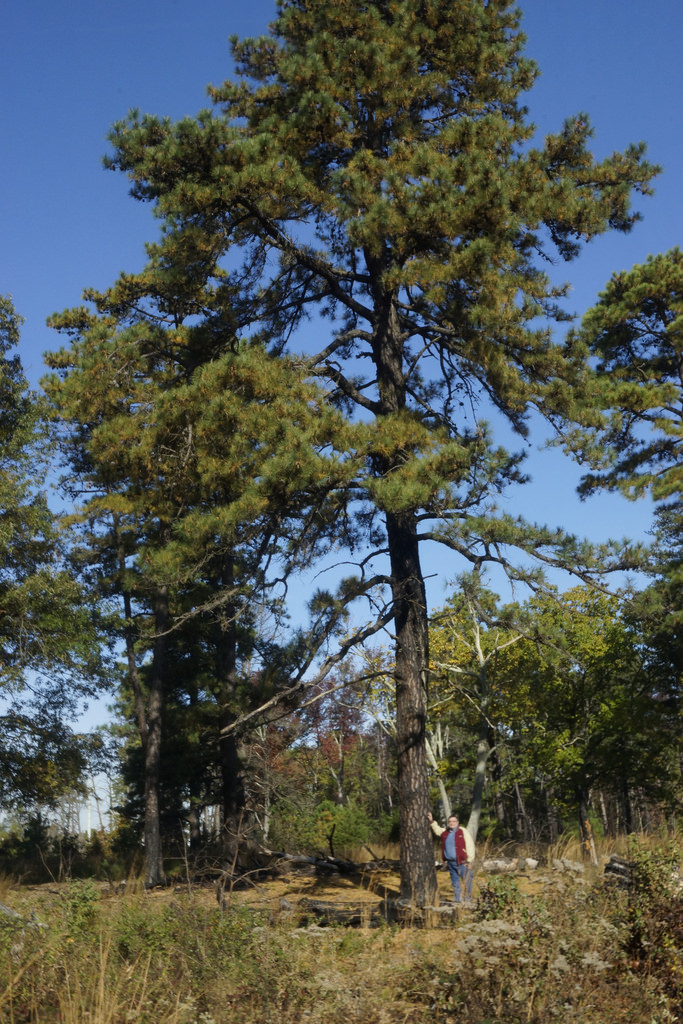 Pitch pine.  @B. Harms, 2016. Maryland Plant Atlas³
Pitch pine trunk and bark with epicormic needles.  @ B. Kimball ² .
Needles and female cones of pitch pine 5.
Distribution
The native habitat is dry, rocky or sandy soils from southern Maine to northern Georgia.  In the north they are found on the outwash sands of glacier retreat, but in the south they are restricted to mountainous regions ¹.  In New Jersey they occur on sands of marine origin ¹ and form part of the pigmy forest that is influenced by frequent fires.  In Maryland, pitch pine is easily found along the roads north of the Patuxent Research Refuge. They can be found in Eastern Shore and Pocomoke State Forest ³.
Native range of pitch pine ¹
Wildlife Importance
They provide food for wildlife.  Deer, cottontails rabbits and meadow mice rely on pitch pine sprouts and seedlings for browse ¹. Birds such as pine warbler, pine grosbeak, and black-capped chickadee ¹.   
Economic Importance
Pitch pines are currently used to make turpentine, rosin, pulp, lumber and paper . Older pitch pine was used for flooring, sills, window and door frames and structural beams. They were also popular for ship building, railroad ties and fencing because of its high resin content and rot resistance ¹.  
Threats
Pitch pine is a fire-dependent plant.  It readily sprouts from the burned trunk or root stocks to regenerate ².  In fire-prone areas it has closed, serotinous cones that open following fire to shed seeds ². Pitch pine is susceptible to the southern bark beetle when in over-mature stands ² . 
Pitch pine sprouting from trunk following fire² .
Interesting facts
The Maryland state champion tree is in Bowie, Prince Georges County and measures 44 inches in diameter and 80 feet tall when last measured in 2017 4.
American Indians had various uses for pitch pine. Pitch pine was red by the Iroquois  to treat rheumatism, burns, cuts, and boils.   The Cherokee used it for canoe construction 6. 
 

References
Contributed by F. Demetrius