Post Oak
(Quercus stellata Wangenh.)
Description
The tree commonly referred to as post oak is a member of the beech family (Fagaceae) ¹. Post oaks can grow 50 to 75 feet tall, with a width of 40 to 70 feet².  Mature bark is gray, furrowed with flat ridges ³.  The leaves have 5-lobes with the middle pair  broader than others giving the leaf a cross-like appearance².  They are dark green and lack prickles on the smooth margins. The lower surface is covered with "stellate" hairs³ (several hairs from the same base forming tufts).  These leaves are about 3-6" long and 2-4" in width³. They are winter  deciduous.  Post oaks produce male and female flowers on the same tree (monoecious)³ and bear oval acorns that are 0.5 to 0.75 inch long³ with the cap covering one-half of the nut¹.  Reproduction starts around 25 years of age ¹.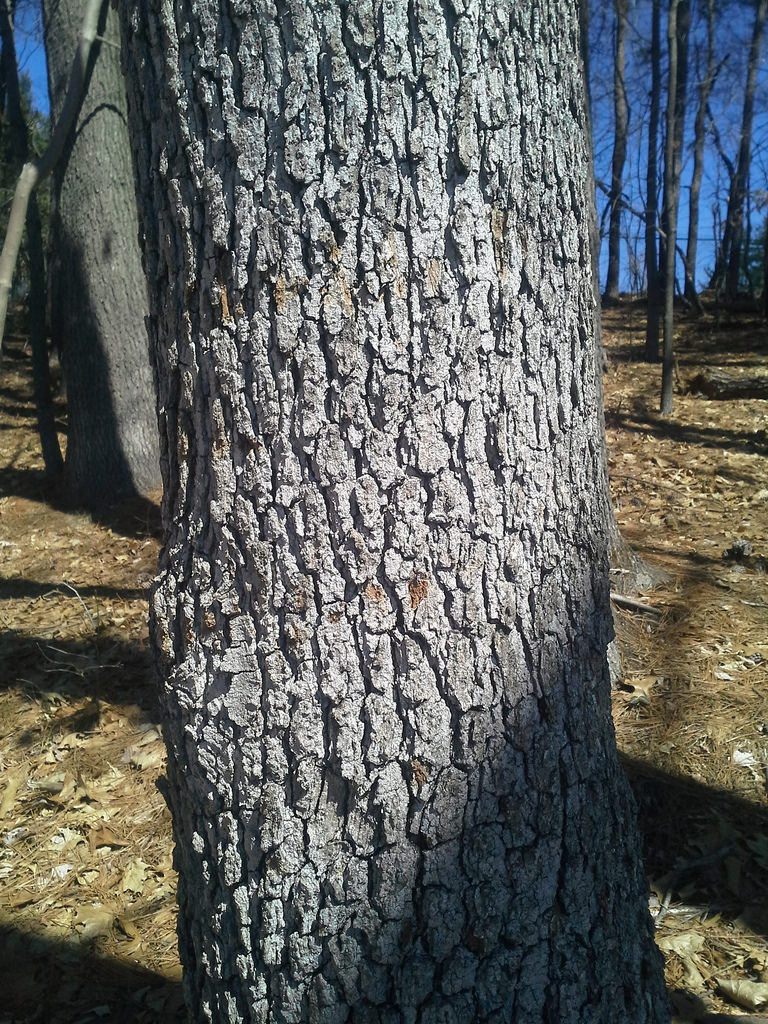 Trunk and bark of post oak.  @ J. Stasz, 2017.  Maryland Biodiversity Project 4.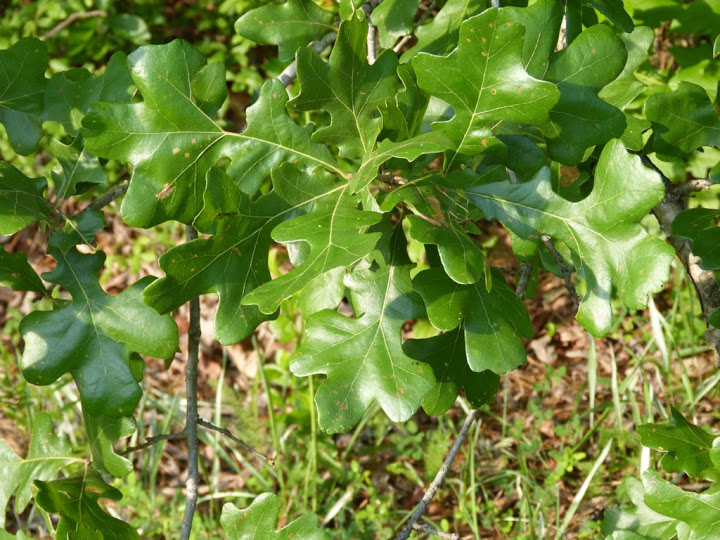 Leaves of post oak.   @ J. Brighton, 2015.  Maryland Biodiversity Project 4.  
Post oak acorns.  @ P. Wray, Iowa State University ².
Distribution
Post oaks can be found from southeastern Massachusetts to central Florida to central Texas ¹. These states have a wide variety of climates, meaning that post oaks are quite durable in a variety of climates throughout the United States. They tend to prefer to grow in dry, well-drained soil and rocky slopes¹. In Maryland, post oaks may be found most frequently in Allegany County, Baltimore County, and the Great Falls area of Montgomery County 4. In Maryland, post oaks are abundant in the shale barrens of Green Ridge State Forest in Allegany County and at  Soldiers Delight Serpentine Barrens in Baltimore County 4.  The range extends along both the Eastern and Western Shores of the Chesapeake Bay and lower Delmarva Peninsula 4.
Native range of post oak.  USDA¹.
Wildlife Importance
Post oaks, like many other trees, have many animals that are dependent on the tree for resources from food to shelter. The leaves and twigs on post oaks provide food for deer and rabbits and can become a valuable resource for animals during a food shortage 5. Post oaks also produce acorns which are essential part of a diet for much wildlife like black bears, white-tailed deer, squirrels, raccoons, rabbits, opossums, and a wide variety of bird species 5. The leaves provide natural cover for wildlife and many animals build nests on the branches of post oaks 5. Post oaks are an integral resource for majority of animals from their food to the shelters these tall trees provide to the various wildlife within the forest.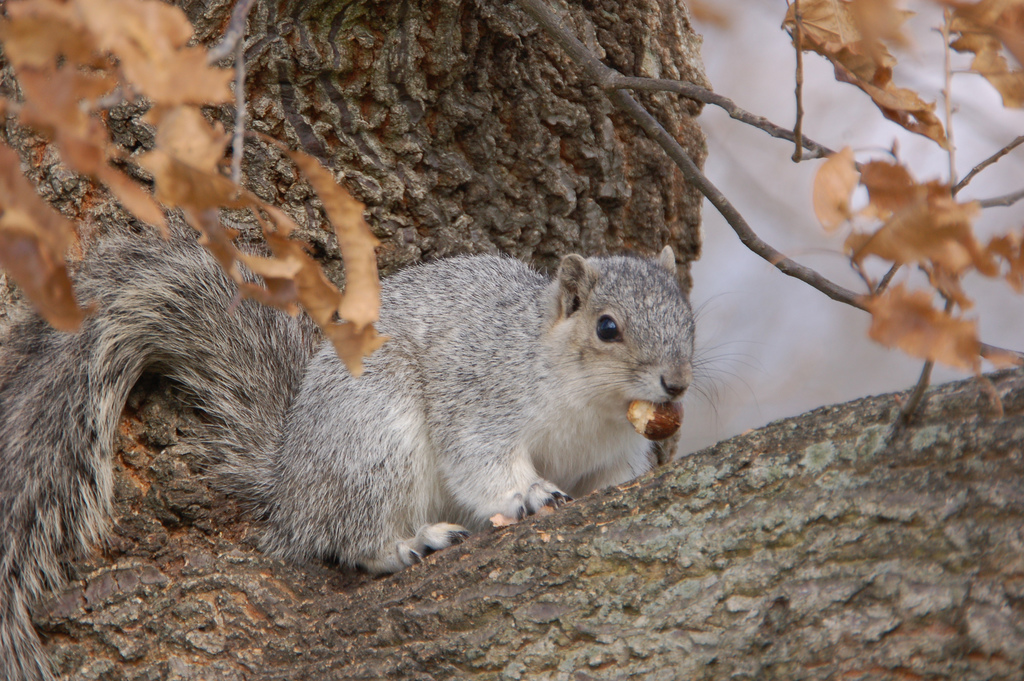 Delmarva Fox Squirrel with acorn in Anne Arundel County. @ D. Post, 2007.  Maryland Biodiversity Project 11.
Economic Importance
Post oaks are often used for cabinetry, fence posts (hence its common name), furniture, flooring, and boatbuilding 6. The wood is a light to medium brown color and has good resistance to decay which makes it very popular for furniture-making 6.  
Threats
Buck moths can threaten post oaks. They inhabit post oaks and can destroy them and many other oak species as they are found from Maine to Georgia 7. If you see one on a post oak, do not grab it as their stings are poisonous 8. Buck moths destroy post oaks and weaken trees so they are more susceptible to disease.  Oaks are in decline worldwide 9 for numerous reasons:  Agriculture and urban development, atmospheric pollution, fungal diseases and insect damage ¹.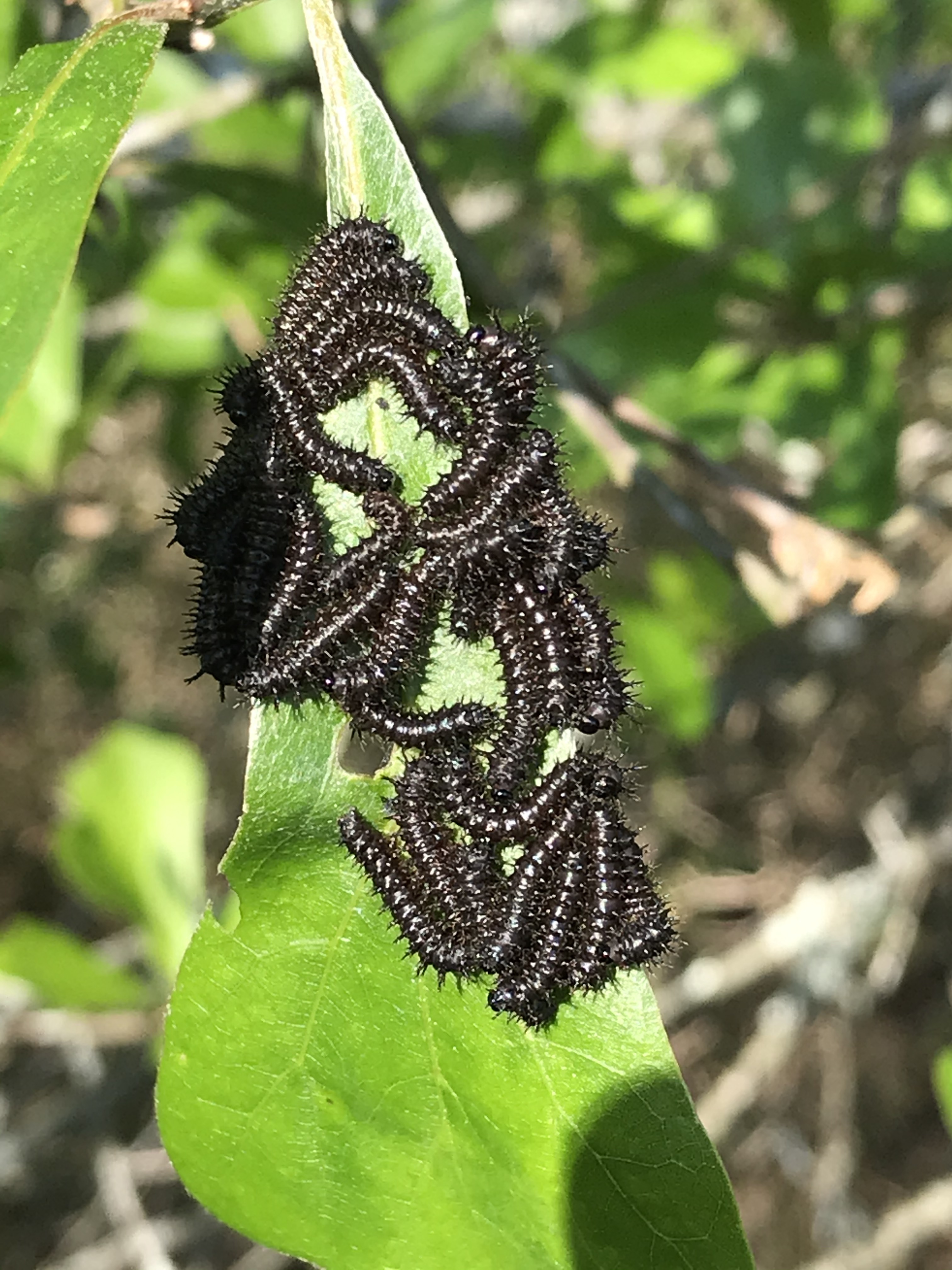 Buck moth caterpillar.  @ J. Brighton, 2020.  Maryland Biodiversity Project 7.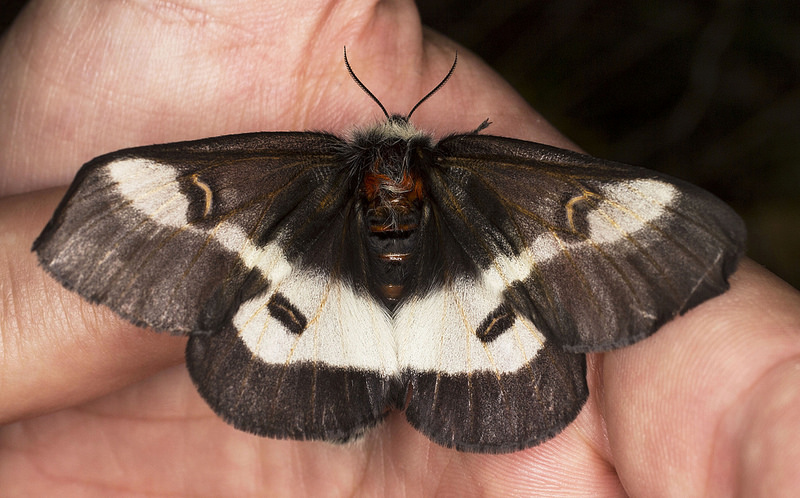 Buck Moth Photo by S. Schade, 2015.  Maryland Biodiversity Project 7.
Interesting Facts
A post oak can reach a maximum height of 108 feet ²

.

The Maryland state champion post oak is in Howard County and measures 69.7 inches in diameter and 78 feet tall when measured in 2016 11.

Post oaks are spread by acorns, which squirrels actually plant them into the ground ¹

.

 

Many wildlife species use post oak leaves for foliage for their nests 5.
References
Contributed by A. Geiman