ASTR 181      Fall 2022
Instructor: Dr. Jennifer Scott (she/her)
Class Meetings:  T/Th 12:30-1:45 PM, Lab W 2-3:50 PM
Contact: jescott@towson.edu • 410-704-3017 •  SC 3150D
Students may expect responses to emails within 24 hours on weekdays, often sooner.
Emails sent over a weekend can usually expect a response by Monday.
Student Hours: 2-3 PM T (after class) • 12:30-1:30 PM W (before lab)
During these times I invite you to meet with me in my office.
My Zoom space will also be open: https://towson-edu.zoom.us/my/tu.jescott
Email me if you wish to make an appointment outside these regularly scheduled times.
1. Course Catalog Description
A course for non-science majors covering stellar evolution, galaxies, cosmology, and possibly other topics including life elsewhere in the universe. Emphasizes determination of the distance scale and modern trends in astronomy. Develops and uses some algebra-based physics. Three lecture hours and one two-hour laboratory period. Students who have successfully completed ASTR 162 will not receive additional credit for ASTR 181. Prerequisite: high school algebra suggested. Core: Biological & Physical Sciences.
2. Learning Goals and Outcomes
University Core Learning Goals for Biological and Physical Sciences
Students will…
Display competency in essential skills required of a college graduate by demonstrating knowledge of methods used to collect, interpret, and apply scientific data.
Explore & integrate knowledge in order to understand how various disciplines interrelate by: articulating relevant basic assumptions, concepts, theoretical constructs and factual information of a discipline • understanding and applying relevant discipline-specific methodologies and strategies of inquiry • applying appropriate critical-thinking/problem-solving skills and communication skills in discipline specific contexts.
Use inquiry & critical judgment to make decisions by: reflecting and evaluating claims and evidence (rather than merely reporting information). • thinking in complex terms that move beyond an either/or binary approach.
ASTR 181 Course Goals
Students should gain understanding of…
The nature of science: The universe is knowable and how we know it through experimentation, observation and theory. • Different types and degrees of uncertainty play a role in all of these.
How science is performed: Scientific ideas change over time. • Science is a cultural process.
Basic concepts in astronomy: The nature, scope, evolution of the physical universe and how the Sun and Earth fit in • Astronomical quantities and relevant physical laws • Some useful tools from related subjects like math and physics
Critical thinking & quantitative reasoning: Analyzing what you read and hear • Making "back-of-the-envelope" estimates
3. Course Content
In this course, we will discuss: The life cycles of stars: star formation (stellar "birth"), stellar evolution, end states of stars (stellar "death") • The Milky Way Galaxy • The properties of other galaxies • Active Galaxies and Quasars • Cosmology and the Early Universe
Refer to Blackboard for details on the course schedule and assignments.
This course will not emphasize mathematics in the material. However, we cannot avoid math altogether and some basic algebra and geometry will be required. See the Background Material for some refresher pages. If you have trouble with this, please see me.
4. Requirements
The grading criteria and overall components of the course grade are outlined in Section 5 and course policies, including policies on late assignments are given in Section 6.
The instructor will guide each student's learning in this course by:
• holding regular student hours
• being available outside those hours by appointment and through email communication
• being open and receptive to ALL questions
• making every effort to treat all students fairly and with respect
The student will direct their own learning in this course by:
• attending lectures and labs
• keeping up with the necessary readings and assignments
• turning in assignments promptly
• keeping informed of course grade and seeking help when needed
5. Grading
Overall Philosophy
Transparency
I aim for you to be as informed as possible about the grade you are earning in this course throughout the semester. If you are concerned about how well you are doing, examine your grades on Blackboard to compare your point total at any given time to the class average. See this page for more details on how final course grades are calculated. Consult this Strategies page for tips on how to do well in this course.
Flexibility
My goal is to provide ample opportunity for students to do well in the course. I allow you to drop one exam and one lab grade. I provide many ways to earn the 100 possible Participation and Engagement points. You can earn up to 15 points of extra credit in several different ways. All of this gives you good control over your own grade, and you can recover from a bad exam day or a missed assignment.
Criteria 
Writing
Some assignments and test items will consist of short essays and/or written answers to some questions. All written work will be graded for grammar and coherence, as well as content.
Numeracy
The labs and exams will include some calculations. I will always provide the equations needed to answer lab or exam questions. For full credit, you must show your work and your reasoning on these kinds of problems whenever possible.
Participation and Engagement
As shown in the grade break-down below, part of your grade will be based on how often you come to class and how much you participate in class discussions and activities. These points will come from randomly chosen graded and ungraded small group activities and clicker questions given throughout the semester. These are designed to improve your enjoyment of the course and your understanding of the material. Attendance at labs is mandatory for lab credit.
| | | |
| --- | --- | --- |
| Grading scale | | |
| percentage | points | letter grade |
| >92% | 870-940(up to 955) | A |
| 90-92% | 843-869 | A- |
| 87-89% | 814-842 | B+ |
| 83-86% | 776-813 | B |
| 80-82% | 748-775 | B- |
| 77-79% | 720-747 | C+ |
| 70-76% | 654-719 | C |
| 67-69% | 626-653 | D+ |
| 60-66% | 560-625 | D |
| <60% | 0-559 | F |
Components of your final grade

Component

Point value

Description

Exams

200

Three exams, lowest score is dropped.Coverage is not technically cumulative but concepts build on each other. Worth up to 100 points each.

Final Exam

150

This exam will cover the entire course, and the grade cannot be dropped. Worth up to 100 points

Homework (posted on Blackboard)

150

Assignments due each week via Blackboard. Worth 10 points each.

Labs (posted on Blackboard)

240

You must be present at the lab to earn credit.

Project

100 

Your choice of a research question, a creative project or a service project. May be done in groups of up to two people.

In class Participation & Engagement

100

From in-class questions and small-group activities. 

Optional Extra Credit

15

Select from the list. Worth up to 5 or 10 points each. Can earn a maximum of 15 points total from these.
6. Course Policies 
Your continued enrollment in the course implies agreement with these policies.
Academic Integrity
All students are responsible for reading and abiding by the Towson University Code of Conduct and Academic Integrity Policy. Towson University policies prohibit all forms of academic dishonesty, including cheating, plagiarism, falsification, and fabrication. It is the student's responsibility to understand what these terms mean.
Any violation of the Academic Integrity Policy will result in a score of zero for the assignment or exam in question and letters to the Chair of the Department of Physics, Astronomy, and Geosciences and to the Office of Student Conduct and Civility Education. Particularly egregious and/or repeated offenses may result in failure of the course.
Participation and Engagement
Attendance is not strictly mandatory, but you will not earn points for questions posed in class if you are not present with your internet-enabled device, to be used for responses.
You are responsible for reading the appropriate chapter in the class notes and in the textbook before coming to class. You will respond to questions and perform exercises in class and these will be of more benefit if you have engaged with the material beforehand.
Conduct
Please come to class prepared to participate fully. Do not eat, drink, read extraneous materials, or engage in personal use of electronic devices while you are in class.
Graded Work
If you miss a deadline for an excused reason you can foresee, discuss this with me ahead of time- as soon as you are able. If it is unexpected, contact me within 48 hours of missing a deadline. If you would like to discuss how a particular assignment was graded,  come to my student hours or make an appointment. I will not conduct discussions about individual grades before or after class or via email.
Exams: There will be no multiple choice make-up exams. If you miss an exam for an excused reason as defined by University policies (with documentation), you may choose either a) to take an open format make-up exam within two weeks of the exam date, or b) to treat that exam as the one to be dropped from your final grade as described in Section 5. If you miss an exam for an unexcused reason, option b) will hold.
Labs: If you miss a lab for an excused reason as defined by University policies with documentation, instructors will work with you to make it up. You must inform your lab instructor as soon as possible about your situation and request a day and time for a make-up within two weeks of the missed lab.
If the above does not apply, the first missed lab may be treated as the lab automatically dropped from your final grade.Additional missed labs will result in zeros for the assignments.
Project:
If you do not turn in any component of the observing project assignment on time 20% of the points will be deducted per day, ie. after 5 days you will receive a zero no matter what. Days start counting at the due date and time and include weekends. You may turn in the assignment late for full credit only with an excused reason, as defined by University policies and with documentation.
Homework: There is no make-up for these online assignments if you miss the deadline. Plan enough time to allow for any possible technical problems.
In Class Work: You may earn the points for in class work if you miss class for an excused  reason as defined by University policies and if you provide documentation of that absence. However, make-up of Participation-Engagement points will only be for special circumstances, as it will still be possible to earn the full 100 possible points even if you miss one or two class periods.
Diversity Mission Statement
The Department of Physics, Astronomy and Geosciences, in accordance with the Fisher College of Science and Mathematics Diversity Plan https://www.towson.edu/fcsm/about/diversity/plan.html
and with the Towson University Diversity Strategic Plan,
https://www.towson.edu/inclusionequity/diversity-strategic-plan/
believes that we must support initiatives that promote diversity among FCSM faculty, staff and students while continuing to meet the workforce needs of the State of Maryland. To fulfill that vision, we are committed to increasing the quality and diversity of our students, faculty and staff while increasing retention and curriculum initiatives.
Title IX policy
Towson University is committed to ensuring a safe, productive learning environment on our campus that does not tolerate sexual misconduct, including harassment, stalking, sexual assault, sexual exploitation, or intimate partner violence [Policy 06.01.60]. It is important for you to know that there are resources available if you or someone you know needs assistance. You may speak to a member of university administration, faculty, or staff, but keep in mind that they have an obligation to report the incident to the Title IX Coordinator. It is a goal that you feel able to share information related to your life experiences in classroom discussions and in one-on-one meetings. However, it is required to share information with the Title IX Coordinator regarding disclosures, but know that the information will be kept private to the greatest extent possible. If you want to speak to someone who is permitted to keep your disclosure confidential, please seek assistance from the TU Counseling Center 410-704-2512 to schedule an appointment, and locally within the community at TurnAround, Inc., 443-279-0379 (24-hour hotline) or 410-377-8111 to schedule an appointment. http://towson.edu/titleix
Repeated Course
If a student fails this course, it can be repeated once. As described in the undergraduate catalog, a third attempt to take this course requires prior approval.
Course Withdrawals
See the undergraduate catalog for a description of course withdrawals and the university calendar for a list of important dates. Please feel free to consult with me if you have any questions related to course withdrawals.
7. Bibliography and Course Materials
Textbook
The textbook for this course is a free online Open Educational Resources text, Open Stax Astronomy. Labs will be made available through Blackboard.
In-class response device
To avoid requiring students  to purchase a clicker for this course, we will be using smart phones or other internet-enabled devices to respond to  questions posed in class. The use of these devices in class is restricted to these responses, unless otherwise instructed. If you do not have an internet enabled device you can bring to class each day, I will lend you one. Please discuss this with me.
Web Materials
There is a Blackboard site for this course, at http://blackboard.towson.edu. This will be the portal for posting accessing and submitting course assignments. From Blackboard you can also access this syllabus, the course schedule, information on assignments and on extra credit options. You may check your course grade using Blackboard as well.
Copyright Statement
Materials provided by the instructor in this course are for the use of only the students enrolled in the course unless stated otherwise. The Towson University Policy on Intellectual Materials states that course materials are owned by the creator.  This means that disseminating course materials including but not limited to lecture notes, labs, and homework assignments outside the course, online or otherwise, is prohibited. Likewise, I will not distribute any of your course products without your permission.
8. Counseling Resources
Students who are experiencing personal difficulties or mental health challenges are encouraged to seek free and confidential assistance at the Towson University Counseling Center (TUCC). Same-day appointments are available, and you can reach a crisis counselor by phone after hours. For more information about TUCC, please visit their website at https://www.towson.edu/counseling/. To make an appointment or for after-hours crisis assistance, please call 410-704-2512.
I look forward to a rewarding semester. Enjoy!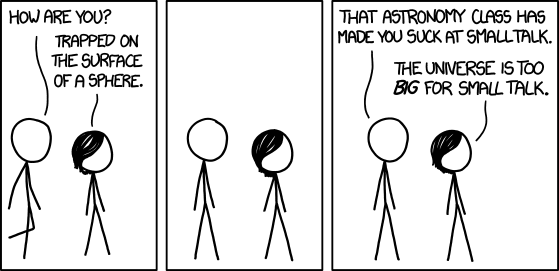 Credit: Randall Munroe  xkcd.com